← Back to portfolio
Hope in Him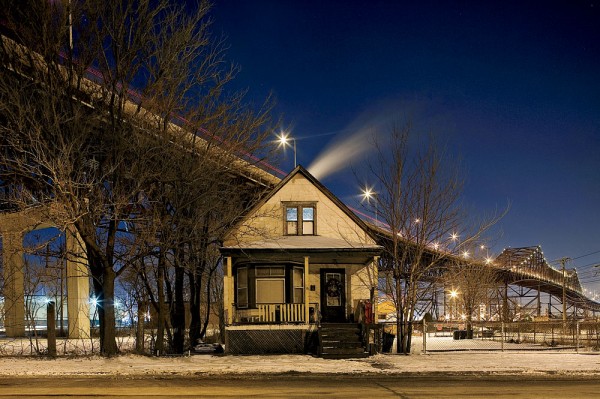 The last few months have been some of the most trying in my life. Not only have I lost some things, I've had to trust God without getting them back. It was in these few months that God tested me and even at moments, I felt, didn't hear my cry. Even in prayer and reading I saw no avail, so it appeared. Even worse, I had to watch others around me get the very things I was seeking God for. (This statement became my prime issue.) This chapter of my life seemed unguided, uninspired, agitated, and restless. More interesting though, is what I got in this purported time of "silence"- a uninterrupted relationship with God. "How else could He get to me?" I would start to ask myself. Though he slay me, yet will I hope in him… (King James Bible, Job 13:15) This scripture may have been the only thing keeping me from completely losing hope again.
I currently reside with my grandparents in the neighborhood where I grew up. It's one of the roughest places in Chicago. It's extremely hard for anyone to live in, but God has kept and protected me. Not only was this an expected move, but long overstayed. While I imagine an amazing job and a beautiful apartment right out of college, that was far from my reality. My commute to work was from one dangerous neighborhood to the next and public transportation wasn't the most pleasant or safe experience. Thank goodness for the times I was able to coming straight home without the loud conversations, curious smells, and obscene gestures from the homeless.
The noise and chaos just outside my bedroom window brought about many sleepless nights and the violence seemed to be inching closer to my grandparent's home. I knew I wanted to get out, but I did not know how or with what resources. When was I going to be released from this place? Honestly, I felt punished! Where was God in all of this? Was he not interested in answering my prayers? Why was I brought to live here again? For the life of me I could not find why God wanted this for me, but somehow I kept holding on to Him. His plans were never made known, but I started to find comfort in his protection and companionship. Instead of giving me everything I wanted, he gave me everything I needed: provision, friendship, peace, and joy. Not to mention, a roof over my head, regular meals, and meager, but consistent monetary resources. Even in this place I saw him as faithful and just. I could feel justified in my anger or I could choose to find some light. Since I chose light, I was finally, for the first time in my life, able to understand what it meant to trust.  
Over time my situation started to lose its sting and I realized that all God wanted was my attention. Far beyond what I was experiencing, He became real to me. Being on that block, in that house, taught me how to fight; how to fight for my peace, how to fight for my joy, how to fight for a purposeful living, and how to seek God for everything in between. For one of the first times in my life, I had no distractions. My mind was clear and my heart was open and vulnerable. I found peace in my version of a storm and my voice was sound. Even with the chaos all around, I my mind was perfectly set on the things God was preparing for me. I had no way of seeing that with my physical eyes, but it was clear with my spiritual ones. He was becoming all the things I read about and I was glad. Just as Job 42:5 proclaims, my ears had heard of you but now my eyes have seen you. Maybe, these days of humility were preparing me to really see God. I can only be grateful, because through it my life was saved.  
As challenging as it is to admit, without the test, I would have never been able to know God for more than my personal genie. Hebrews 12:5b-11 says, my son, do not make light of the Lord's discipline, and do not lose heart when he rebukes you, because the Lord disciplines those he loves, ...endure hardship as a discipline; God is treating you as sons...11. No discipline seems pleasant at the time, but painful. Later on, however, it produces a harvest of righteousness and peace for those who have been trained by it. What a great reminder that God is a father and he does treat us like children – that need to be reared, directed, and watched over. Had it not been for this loving chastisement, maybe I would never know how to pray earnestly, or quiet my rambling thoughts, or see myself overcome challenges?
Furthermore, our relationship should have never been based on attaining his favor and blessings. I was also wrong to assume that there was one way to have a relationship with Him. It makes so much sense now to believe that if I sought the kingdom of God first that everything thing else I needed would be given to me. I know that I can trade my pain for beauty. As Isaiah 61:3 exclaims, he will bestow on them a crown of beauty instead of ashes, the oil of joy instead of mourning, and a garment of praise instead of a spirit of despair. They will be called oaks of righteousness, a planting of the Lord for the display of his splendor. All I will ever want now is to be a reflection of His magnificence and to live with the expectation that every trial was created to make me stronger.
*Photo provided by www.ChicagoMag.com